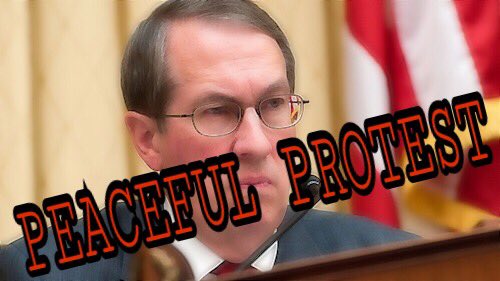 Our very own Representative Goodlatte will be at the Frontier Culture Museum today at 3 PM in Staunton! The elusive Goodlatte prefers to speak to his constituents in private meetings and events or through telephone town halls. We plan to gather as many people as we can on short notice for a peaceful protest at the Frontier Culture Museum at 2:45.
We didn't share details of Rep. Goodlatte's visit before today because we were waiting for confirmation, and didn't want to spook him into cancelling.
Protest Suggestions
Keep things peaceful and civil. Please bring your signs and your passion, though! Goodlatte has said in the past that he does not hold a town hall because he doesn't believe people can be civil, and lately, many Republicans have claimed they don't feel safe at public events. 
If you get the opportunity to speak to him, he prefers to talk about specific bills, votes, and issues rather than overarching conversation. We suggest asking him to explain his vote to repeal the ACA, or his support of anti-immigrant bills HR 3003 and 3004. 
We hope to see you there. Spread the word, but don't tag Goodlatte in any of your comments or shares in case he decides not to come.